Fueled by a passion for excellence
Emily Simmons
Emily brings fresh perspectives and ideas to help move our client's priorities forward.
Prior to joining MLC, Emily worked as a legislative aide in the Michigan House of Representatives. Emily produced, tracked, and worked on legislation, in addition to meeting with stakeholders and other legislators to work on pending bills. Additionally, she represented the office at events in the district and in Lansing and assisted with constituent services.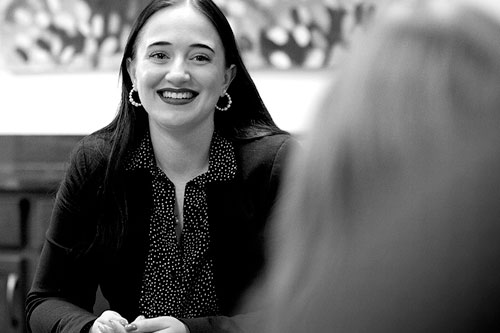 Emily also worked on the Representative's re-election campaign for the Michigan House of Representatives. During the campaign, she helped complete candidate endorsement surveys, created campaign literature, designed graphics, and knocked on doors.
While in college, Emily interned at MLC and was an assistant campaign manager for a State Representative race.
Education
BA, Political Science, Albion College
In the Community
Emily enjoys volunteering with her hometown church, Alma Church of God.
Outside the Office
In her free time, Emily enjoys golfing, playing trivia, traveling, reading, and visiting local restaurants and shops. She resides in East Lansing with her husband, Noah, and their kitty, Darby.